To our customers, and everyone beyond
Aiming to provide new value through IT solutions
Since our establishment in 1972, ITFOR Inc has been providing IT solutions for a variety of industries, including network infrastructure construction, mainly for regional customers such as regional financial institutions, regional governments, and regional department stores.
In particular, we developed the "delinquent loan management system (auto call system)" for the first time in Japan in 1983, with over 70% of regional banks in Japan using our system, we have gained an overwhelming market share in the field of debt collection systems for financial institutions.
Today, we are working on new solutions in response to changes in social and living environments. These include the construction of a "cashless platform" to realize the rapidly growing need for non-face-to-face and non-contact services, a "security platform" to counter cyber-attacks using AI, and a "digital platform" to realize trust services using blockchain. We will contribute to regional DX and further regional development so that we can revitalize the economy by supporting the lives of regional communities and people.
ITFOR will continue to support the creation of a society that brings excitement and smiles to people by providing new value through innovation, in addition to our accumulated technology and know-how we have accumulated over the years, in order to meet the needs of not only our BtoB customers but also the people of society beyond them (individual customers).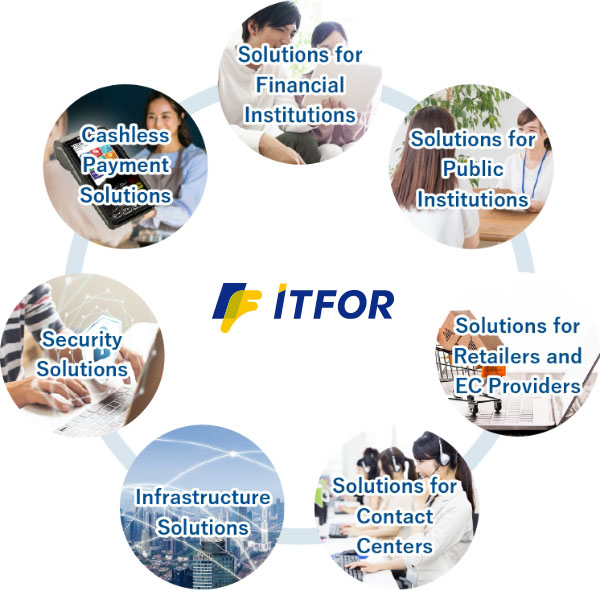 List of Projects We Are Involved In
Solutions for Financial Institutions

We have developed a large number of solutions for regional banks and other financial institutions. We provide systems that are powerful tools for clerical work based on the knowhow we have accumulated through painstaking dialogue with our user companies.

Solutions for Public Institutions

We provide solutions for supporting regional government DX. Tax arrears management systems, telephone and SMS notification systems, and BPO services, etc. We also provide solutions for boards of education, including school meal fee management.

Solutions for Retailers and EC Providers

We provide packaged systems for retailers, including both core systems and systems for creating EC sites. This has enabled us to provide OMO environments that link stores with EC sites.

Solutions for Contact Centers

We provide solutions for creating contact centers and home call centers, from small-scale centers through to large-scale centers. Our lineup includes products capable of catering to both on-premise and cloud environments.

We provide the knowhow to create system infrastructures and network infrastructures based on our results and technological prowess in network architecture. We also provide communication solutions for cloud-based IaaS and carriers.

We provide a wide range of security services, including security against cyberattacks. We are able to provide all aspects of secure networks, from the design phrase through to creation.

Cashless Payment Solutions

We are contributing to promoting a cashless society within the country with our cashless payment platform, which is optimized with knowhow accumulated through solutions for financial institutions and retailers.