Basic Sustainability Policies
Realizing a sustainable future by supporting regional societies and the life stages of residents through innovation, and providing surprises
We provide surprises to regional societies and all life stages of people with ITFOR systems and services to bring moving experiences and smiling faces to everybody through the "power of empathy". We will contribute to the development of the global environment, financial systems and society at large, and aim at ensuring a sustainable future.
We implement business activities that constantly provide everyone with the "power of empathy" as a supporter of all stages of people's lives, and contribute to creating a society that brings moving experiences and smiling faces to everyone.
We share social issues through engagement with communities, and aim at contributing to society through regional revitalization.
We practice administrative activities that place the greatest emphasis on the global environment, and contribute to solving a diverse range of issues, such as climate change, through our systems and services.
We make the best possible use of the individuality possessed by our diverse human resources, and provide equal and diverse environments in which it is worth working.
We create social infrastructures through the promotion of DX to contribute to sustainable town planning.
As stated in the 3rd Mid-Term Management Plan issued in May 2021, ITFOR will expand and evolve its initiatives for sustainability within the evolution of our ESG management. We have established a Sustainability Promotion Committee as part of these initiatives, to which the President and Representative Director has been appointed as chairperson in charge of promoting sustainability, and three division directors appointed deputy chairpersons. Committee activities will be reported to the board of directors whenever board meetings are held, and directives will be issued when necessary. The matters decided upon by the committee will be notified to our head office and all Group companies, and the entire Group will come together to ensure sustainability.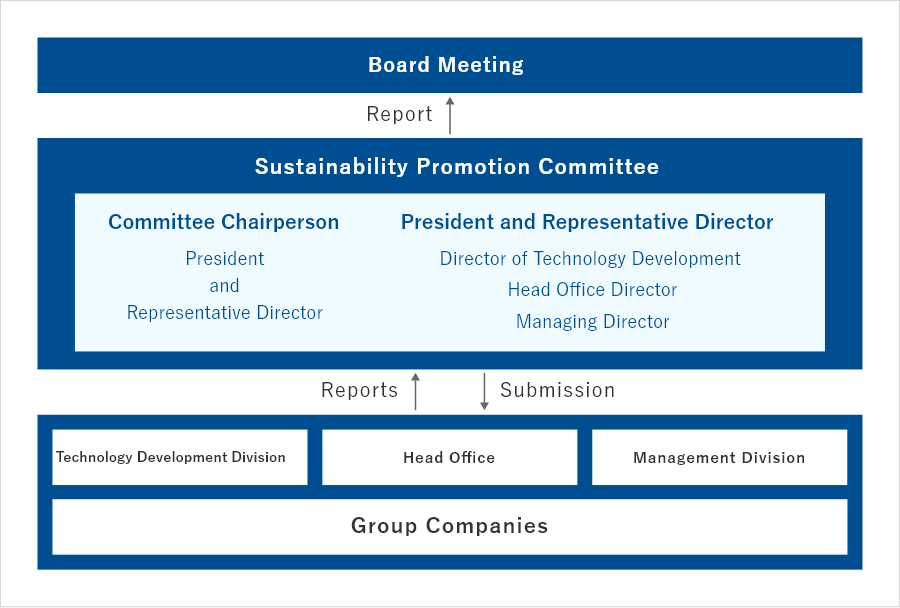 Materiality (Important Topics)
ITFOR has clarified our stance and purpose for "providing all people and companies with surprises through social contributions in the field of regional revitalization, and contributing to the development of a sustainable future," and enacted Basic Sustainability Policies. We are investigating and identifying the main topics (materiality) for sustainability incorporating the perspectives of the environment (E), society (S) and governance (G) from a variety of different angles. We intend to involve ourselves in these aspects of materiality while carrying out our normal business activities to contribute to a sustainable future.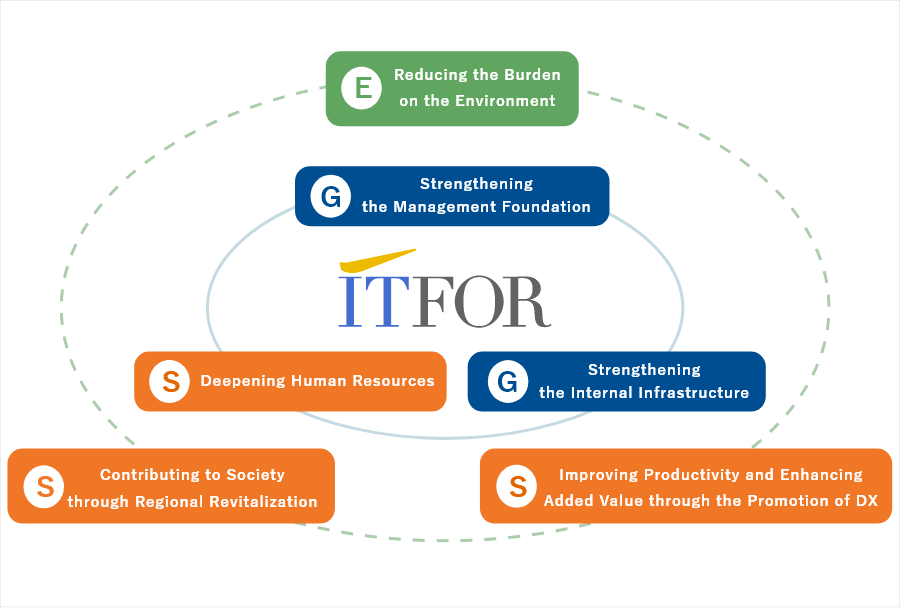 | | |
| --- | --- |
| Reducing the Burden on the Environment | In addition to implementing direct and indirect initiatives pertaining to the reduction of greenhouse gases so that we are able to accept the challenges involved in halving emissions by the year 2030, we are also responding to the effect our business affairs have on the risk of climate change so that we can provide solutions that support our BCP from the viewpoint of business sustainability. |
| Contributing to Society through Regional Revitalization | We are utilizing open innovation, including solutions, in our business activities to correct the disparities between urban areas and rural areas and aim at revitalizing regional economies. |
| Improving Productivity and Enhancing Added Value through the Promotion of DX | In addition to supporting the improvement of organizational and corporate productivity with the use of ever-evolving IT, we are also supporting the establishment of environments in which it is worth working. |
| Improving Productivity and Enhancing Added Value through the Promotion of DX | We are strengthening our management foundation in such areas as compliance management, risk management and corporate governance, and moving ahead with promoting the adoption of DX within the company and other initiatives that strengthen our internal infrastructure. |
| Deepening Human Resources | In addition to promoting human resource activities and providing training to ensure that diverse senses of value and backgrounds are respected and to get the maximum potential out of each and every employee, we are also creating future-oriented working environments in which it is worth working. |
In November 2021, ITFOR established a committee that is effective throughout the entire organization, and identified five specific aspects of materiality in alignment with our corporate philosophy and global tendencies regarding GRI guidelines and SGDs, etc.
Step 1

Clarification of Basic Policies

We have revised the stance we wish ITFOR to assume in the future, and changed our corporate philosophy to "Providing moving experiences and encouraging smiling faces with the power of empathy". We have also defined our corporate purpose as "providing all people and companies with surprises through social contributions in the field of regional revitalization, and contributing to the development of a sustainable future" based on this. Our basic policies for sustainability have been clarified in alignment with the above.

Step 2

Topic Analysis

We have identified the most important topics for the company while referring to the GRI Standards and other international guidelines, the SDGs (Sustainable Development Goals) and other global movements, and the survey details issued by ESG evaluation institutions. In combination with this, we have also identified the topics that currently involve each of our internal departments, or are likely to involve them in the future.

Step 3

Importance Assessment

We have examined the priority and level of importance of each aspect of materiality from the viewpoint of the environment, society and our management foundation while taking social requirements into account to select materiality based on our business strategies. We have also examined in detail the initiatives that the company is currently implementing or is likely to implement in the future with regard to materiality.

Step 4

Identifying Materiality

In addition to coming to decisions regarding validity based on the opinions of influential people within and outside of the company, ITFOR has identified five items of materiality that have been screened and decided upon by the Sustainability Committee and the Board of Directors. We will revise these items when appropriate in alignment with changes in social and business conditions, etc.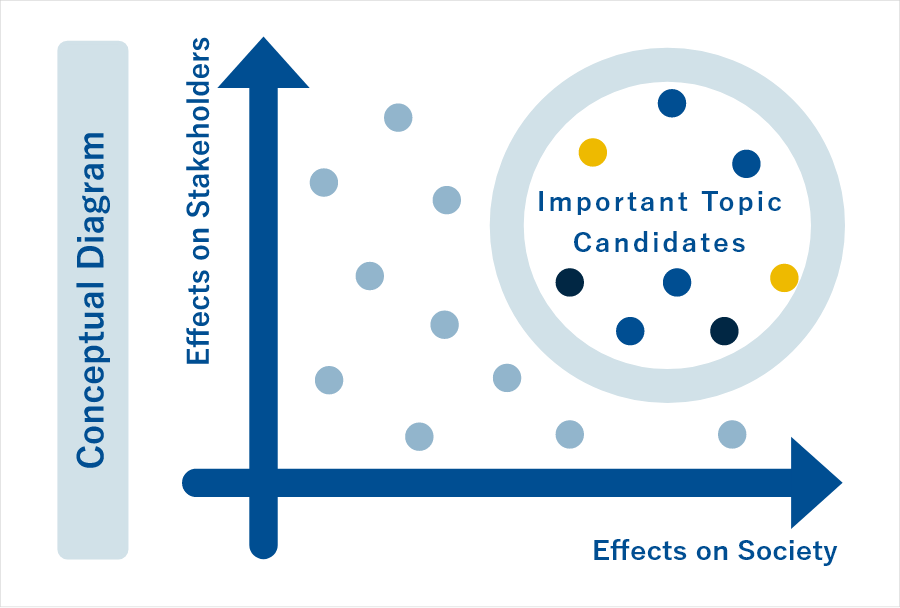 We are currently moving ahead on the detailed adoption of ITFOR's sustainability activities within our business affairs. These activities will contribute to achieving the Sustainable Development Goals (SDGs) adopted by the United Nations in 2015 that are due to last through to 2030.
ITFOR places the emphasis on stakeholder engagement to promote our activities in realizing a sustainable future. We believe that communicating with our stakeholders and obtaining their opinions enables us to make the best use of our corporate activities. We also believe that actively publicizing appropriate information helps us build up relationships of trust, as well as enabling us to develop together with our stakeholders.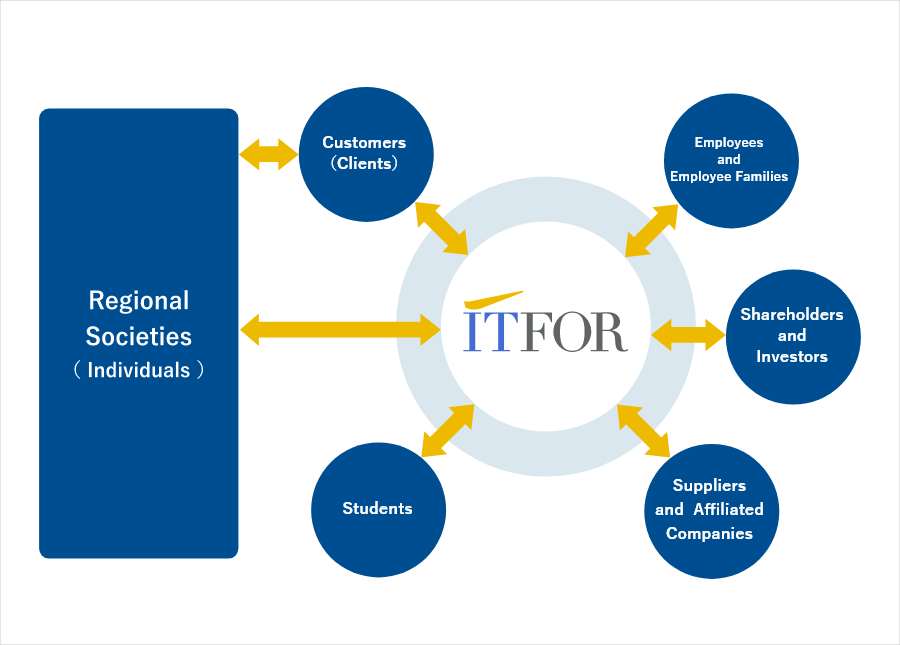 Conversing with Stakeholders
ITFOR maintains constant communications with our stakeholders, and reflects their opinions back into our corporate activities.
Stakeholders
Main Conversational Methods
Customers
All organizations and companies, etc., that use the products and services provided by the ITFOR Group
Seminars
User Briefings / Study Workshops
Other Events
Shareholders and Investors
All ITFOR Group shareholders, individual investors and institutional investors
Shareholders' General Meeting
Financial Results Briefings
Investor Briefings
Separate Seminars for Individual Investors
Issuance of Various Reports
Employees and Employee Families
All employees and their families, including those in Group companies
Internal Training
Intranet
Quarterly Interviews
Organizational Diagnostic Surveys
ITFOR Hotline
Regional Society
The entire regional societies in which the ITFOR Group and our customers are involved
Initiatives for Environmental and Social Contribution Activities
Creation of Regional Social Infrastructures
Recovery Support for Disaster-Affected Areas
Suppliers and Affiliated Companies
All business partners who provide their cooperation and services within the ITFOR Group's business affairs.
Daily Procurement Activities
Supplier surveys (questionnaires and visits), etc., implemented
Quality Improvement Briefings
Quality Audits
Purchasing & Procurement Activities
Students
All students wishing to work with us to contribute to society through the provision of IT, including those scheduled to join the ITFOR Group and those seeking to work for ITFOR
Internships
Company Presentations
Verification Experiments with Universities
Information distributed on our recruitment page
The public-private partnership platform for regional revitalization and SDGs was set up as a forum for linking public and private enterprises together in alignment with the SDGs that the government's Cabinet Office is implementing throughout the country in order to provide firmer links toward the promotion of regional revitalization. We are supporting regional revitalization by bringing together regional financial institutions and local governments, as well as various public enterprises and universities, etc.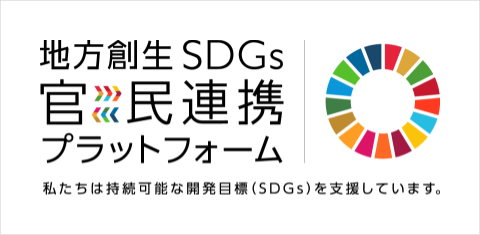 This platform was established in July 2018 targeting corporations, local governments and NGOs, etc., that agreed to "join the front line of the global push for decarbonization from Japan," and it is a network for distributing information on the initiatives being actively implemented against climate change, and for strengthening the exchange of opinions.